Super Mario Bros.
3

FOR THE
NINTENDO ENTERTAINMENT SYSTEM
The Mushroom Kingdom for additional info.
________________________________________________________________________________________________
SUPER MARIO BROS. 3 is one of my personal favourite NES games. Mario 3 is the sequel to both Mario 2 games.
Super Mario Bros. 2 The Lost Levels for Japan and Super Mario Bros. 2 USA in America. Mario 3 has new powerups such as the Super Leaf:
and the tanooki suit. Mario 3 holds for one of the best games of all time. Now more about the Mario game, it had new levels, enemies, new map screen, multiplayer battle featuring the arcade classic, Mario Bros! The map screen feature was my favourite thing about the game. Going to Kinopio's House for items, battling Hammer Bros. of all kind, going through warp pipes, and most of all selecting levels. More things in depth in Mario 3 was that there was many glitches, two different versions of the game in USA (
Go here and go under and read "Two versions for NES" and then "Toad's N-Spade instructions".
), remakes for the US version from Japanese, text errors, (I am Error) and even.. Lost or unused sprites and levels. Yeah, I'm talkin' about Hammer Bro and Koopa houses: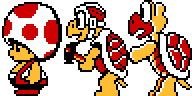 , 15 unused levels, and even sprites:

and

.
At first I was amazed how all of this information got to me. Now I now this is no ordinary video game. And even,
check out Angry Video Game Nerd's response.
But anyways, this game is great. But this is inside info. For this I give:
5 'Shrooms out of 5.